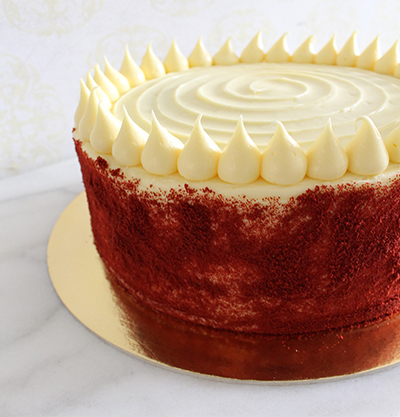 RED VELVET CAKE WITH CREAM CHEESE FROSTING
This is traditional style red velvet cake it has soft texture with creamy cheese frosting. Sponge and cream make a perfect combinations for your family dinner dessert or you make can make special occasion such as birthday, anniversary, you can also top it with fresh berries and edible flowers.
---
One Medium size cake good for 4 to 6 person
8 Slice / Calories 620
INGREDIENTS:
170 g T45 flour
26 g Callebaut cocoa powder
9 g baking powder
2 g baking soda
1 g salt
6 g red food colouring
200 g unsalted butter
50 g icing sugar
100 g brown sugar
100 g eggs
CREAM CHEESE FROSTING:
500 g cream cheese
400 g icing sugar
150 g butter (room temperature)
20 g vanilla essence
10 g lemon zest
10 g lemon juice
COOKING INSTRUCTIONS FOR THE RED VELVET SPONGE:
1. Mix butter and sugars in electric mixer until smooth; then whip eggs slightly and add into butter mixture until eggs are incorporated. At this stage, if eggs and butter separate, do not worry: you can add a little bit of flour.
2. Sift all dry ingredients and set aside. Once butter and sugar are combined well, add sifted items (cocoa powder, food colouring, flour, baking powder and baking soda).
3. Add yogurt, milk, vanilla essence and sugar. Mix together.
4. Add all sifted ingredients into butter mixture, fold well and speed up the machine for a minute or two. This way, you will get a fluffy cake.
5. Place mixture into a baking tin and bake in preheated oven at 350°F (177°C) for 15 to 25 minutes.
FOR THE FROSTING:
1. Mix butter and sugar until smooth; then add vanilla and lemon juice.
2. Add cream cheese using paddle, combine well, and sponge cool.
HELPFUL HINTS:
1. Be sure to preheat oven.
2. Place all ingredients at room temperature overnight.
3. Use good quality food coloring and mix it with milk.
Please note:
If you have any questions or face difficulties with this recipe, please contact me via Instagram. I will be more than happy to help you!