French chocolate tart with fresh raspberry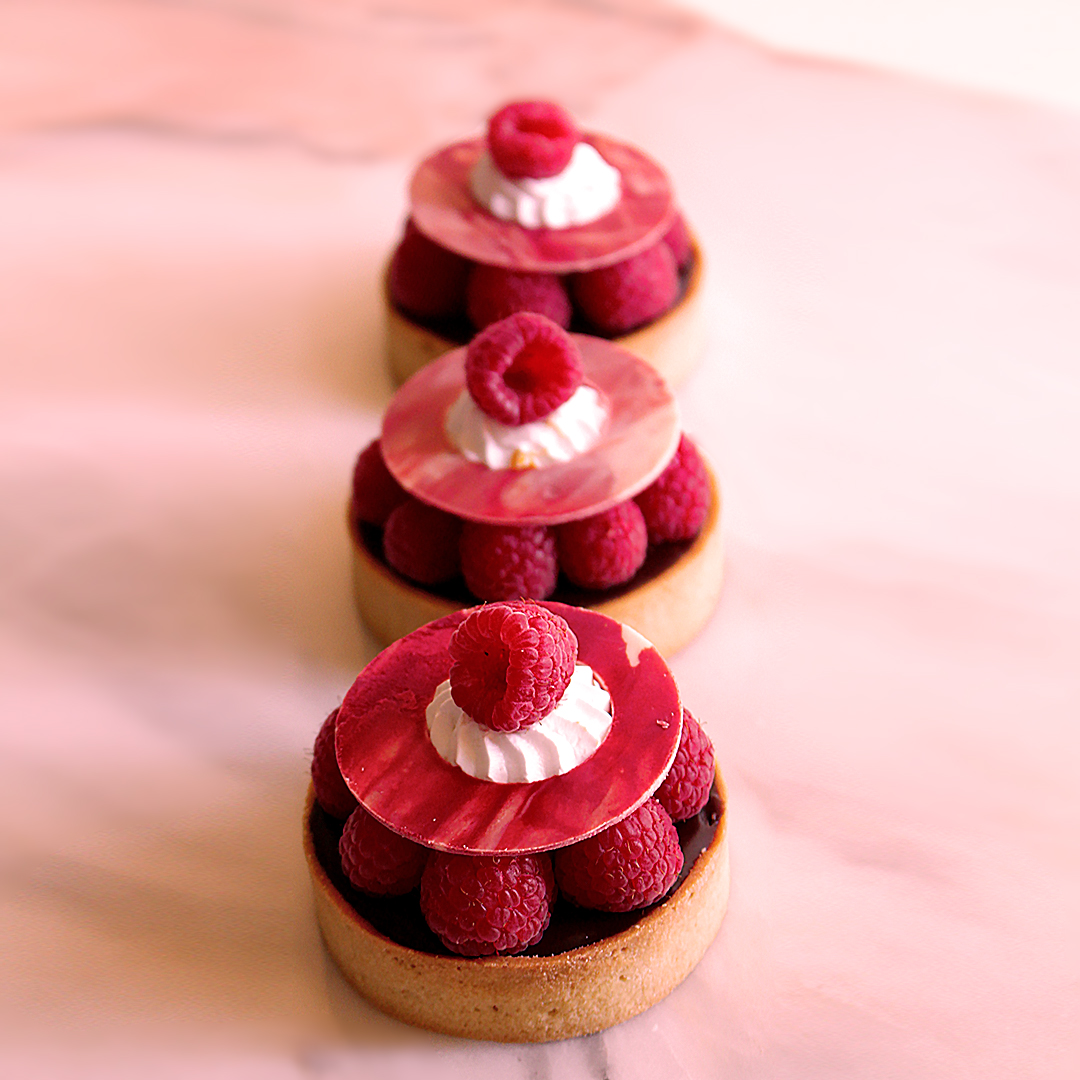 FRENCH CHOCOLATE TARTS
(Serves 8 to 10 small tarts)
TART DOUGH INGREDIENTS:
340 grams unsalted butter
200 grams icing sugar
50 grams caster sugar
150 grams fresh egg
85 grams almond powder
650 grams all-purpose flour
15 grams corn flour
50 grams cocoa powder
CHOCOLATE GANACHE INGREDIENTS:
220 grams Valrhona chocolate (Itakuja 55%)
200 grams Elle & Vire cream 35%
20 grams liquid glucose
30 grams unsalted butter
INSTRUCTIONS
FOR THE TART DOUGH:
In a KitchenAid machine with the attached pedal, mix butter and sugar until creamy.
Add egg while scraping the side of the bowl.
Sift all dry ingredients together, then add into the butter-sugar mixture and combine well until formed into a dough.
Place the dough in the refrigerator for 2 hours before lining it into tart molder. The dough needs to be firm enough to shape.
Line tart into tart shell molder or any size ring you prefer. I use an 8 cm x 2 cm ring and a tart-dough thickness of 2.5 mm. Bake tart shell at 150 °C with a rotating fan for approximately 15 minutes.
FOR THE GANACHE:
Bring the cream, butter, and liquid glucose to a boil over medium heat using a small saucepan.
Remove cream from heat and check the temperature: when it reaches 45 °C, add chocolate.
Pour the ganache into the pie shell and place your chocolate tart in the refrigerator for at least 2 hours.
Decorate with chocolate or raspberry garnish.
CHEF'S TIPS:
§ Use semi-bitter chocolate.
§ During baking, the tart shells may deform. To avoid this, place some rice wrapped in plastic cling film, place on top of the tart shell to keep tart in shape.
For further information, contact:
www.fourberry17.com